2018 Kia Stinger vs 2018 Kia Optima Comparison
Specs at a Glance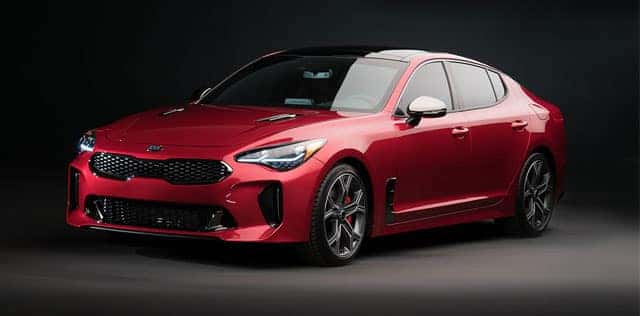 2018 Kia Stinger
Transmission
8-Speed Automatic
---

2018 Kia Optima
MPG (City/Highway)
25/36 *
Transmission
6-Speed Shiftable Auto
2018 Kia Stinger vs 2018 Kia Optima
Serving

Woodstock

,

Marietta

, and

Roswell

, GA
Sleek, powerful, and graceful, the 2018 Kia Stinger has everything you'd want from a luxury sedan. But don't let its good looks fool you – the Stinger is quite agile, powerful, and fast, and it comes with a choice of two powertrains. Another advantage of the Stinger is that you get a generous portion of standout features for much better price compared to competitors. Leather seats, a high-end infotainment system, and an abundance of safety features are some amenities you'll get with the Stinger. It also has one of the most extensive warranties in its class. Another good option for a comfortable, spacious, and value-conscious Kia is the 2018 Optima. This year, the Optima gets a new trim level and more standard features. The infotainment system is more intuitive, and you get more standard technology starting with the base trim. Advanced safety features are also standard. All in all the Optima, like the Stinger, provides more standard amenities than most competitors.
Performance
Both the 2018 Kia Stinger and the Optima have impressive power. The base engine of the Stinger is a twin-turbo 2.0L, four-cylinder engine with a power output of 255 HP at 6,200 RPM and top torque production of 260 LB-FT at an RPM range of 1,400 to 4,000. The second, even more, powerful engine is a twin-turbo 3.3L, V6 with a power output of 365 HP at 6,000 RPM and torque production of 376 LB-FT at an RPM range of 1,300 to 4,500. Both engines are matched to an eight-speed automatic transmission. Rear-wheel drive and all-wheel drive are both options. The 2018 Kia Optima has three available engines. The base is a 2.4L four-cylinder with a power output of 185 HP at 6,000 RPM. The second is a 1.6L turbocharged four-cylinder that produces 178 HP at 5,500 RPM. The third is a 2.0L four-cylinder that produces 245 HP at 6,000 RPM. This engine is also turbocharged. Depending on the trim level you choose, the Optima comes with either a six-speed or seven-speed automatic transmission.
Appearance
Both the Stinger and the Optima have striking appearances. The Stinger has a carefully-crafted exterior shaped by aesthetic values, aerodynamics, and inspiration from sports cars of the past. Among its highlights are a sloping roofline, a custom fender, dimensional curves, and bold lighting elements. The Stinger makes an excellent first impression with jeweled LED turned signals and daytime running lights. In the back, the Stinger gets four exhaust pipes, with two on each side. The Optima also makes an excellent first impression with sporty bumpers, a front grille made of matte gray or black, rear spoilers, and chrome accents. Power-adjustable mirrors and LED lights add to its dramatic appearance.
Features
The Stinger and the Optima both offer an impressive array of amenities. A seven-inch infotainment display screen is standard on the base trim of the Stinger, but the rest get an eight-inch infotainment screen with navigation. Android Auto and Apple CarPlay are standard this year too. An array of safety amenities, including a backup camera, parking distance warning, lane-change assist, and blind spot warning are either standard or available. Leather seats and USB charging ports enhance the Stinger's interior. The 2018 Kia Optima also gets an intuitive infotainment system. A six-speaker sound system, eight-inch touchscreen, Apple CarPlay, and Android Auto are all standard. Safety features include a backup camera, lane-change assist, and rear cross-traffic alert.
If you're looking for a quality sedan this year, the 2018 Kia Stinger and the 2018 Kia Optima are both excellent options. The Stinger offers a sportier and more athletic design, while the Optima provides much in the way of comfort and technology. To try out one or both of these sedans, do not hesitate to contact our dealership by phone or through our website.
---
* Based on 2018 EPA mileage ratings. Use for comparison purposes only. Your mileage will vary depending on how you drive and maintain your vehicle.